Hello vocaverse, I'd like to preface this by saying im quite terrible at speaking on the internet, it gives me anxiety.. but im trying to get better (⋟﹏⋞).
So anyways, every once in while when im not gaming i draw o-o usually a lot of terrible drawings but i put a lot of effort into them.
ill post drawings here every so often, i mostly draw miku and rin though ..
About a month ago i tasked myself to draw sailor girl versions of some vocaloid characters, think sailor moon x vocaloid? iunno..
i hope you like it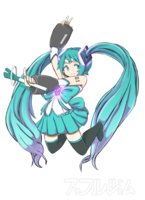 I'm going to go hide in a corner somewhere now. okay. bye
p.s water mark says applejam (・・)
more stuff
Last edited: