Absolutely not a containment thread for Tonio progaganda.​
I probably draw like 98% singing robot art.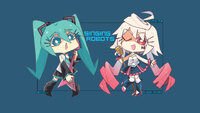 Current project:
I'm working on a Tonio avatar maker (Tony Maker). Avatars generated using this app are free to use for your covers/originals as long as credit is given.
Hoping to launch beta soon.
Some links to find me:
✧
My Art Gallery
✧
Twitter
✧
Facebook
✧
deviantArt
✧
Instagram
✧
Pixiv
Please don't look for Tonio thirst pics here.