Administrator
Staff member
Administrator
Hello everyone!
As you may have noticed, the forum has gone through some restructuring this weekend. Our aim is to make it easier to discuss vocal synths beyond Vocaloid, reflecting the increased diversity of the industry.
List of changes:
The Vocaloid Lounge has been changed to The Vocal Synth lounge.
Other Vocal Synths discussion has been moved to Fandom.
Other Vocal Synths news has been moved to News.
Vocaloid Creative Works is now Vocal Synth Creative Works.
A new section, Speech Synths, has been created.
Content in Vocal Synth Lounge can now pertain to any engine. Threads are marked with prefixes or 'flairs', which you can apply when posting. To see threads relevant to a specific vocal synth, click the Filter button on the top right of the thread list: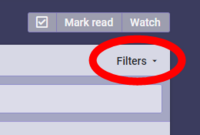 If you find any bugs or errors, please let us know.