カイミク || Len English || Arsloid || V5/Piapro
Staff member
Moderator
Goal from doing Commissions
:
Dex is on sale for $40 (plus tax) and so I want to use my
average
drawing skills to get him!

There is a group bundle deal for AHS so I joined a group for the goal of getting Kiyoteru Rock as a physical copy! I wanted his Rock Voicebank as a physical copy so this is my chance to get him for a good deal!

New Goal: To save up money to get either VY2v3 or VY2V5 (If I can find a working copy of him!), or Miku V4x bundle (for a good price) or maybe FL Studio so I can stop using the trial version.



.
I'm doing to have both Digital and Traditional drawings as options! (Traditional would be scanned and sent of course)
*Prices changes have been added in!*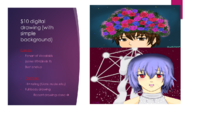 Not too much on shading, but like at least two colors shading. Can do black outline or color outline.
I might not include sketching price for it unless it will be a hard drawing and it includes 2 people in it.
$20 instead of $10, but $10 add in for an extra character.
$10 add in for large files/drawing. Ex: 2000x2000
$5 for different backgrounds instead of 1 simple background (Like one half is different than the other)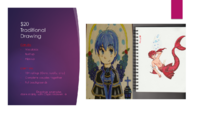 Instead of $20, it is now $30 plus $10 for extra character.
And.... I'm blank....so yay, $30 for now~!

Maybe $5 for extra detail stuff like using white pen and gold/silver/bronze pens in the drawing.
The price of the traditional is higher is because I'm using my supplies of Copics, Prismacolor, pens, paper, etc. to make the drawings. Copic costs a lot and I don't have any refill bottles for them so please respect that. Also if you want a certain Vocaloid and I don't have certain colors for them I'll let you know beforehand to avoid trouble down the line
I also do shading as best as I can so it won't be simple colors
For backgrounds.... please tell me if you want some simple designs around the character or a border, and I'll see if I can do it or not. I might also use watercolor, but I'll let you know if I do want to use them or not and if you don't mind.
I probably won't accept too much male characters showing off them upper body drawings, sorry if that would be the case
For full bodies I'm not really in the mood to do them since I'm not good at drawing legs and feet really, plus I don't want to increase the price
maybe $5 increase for Mermaid's tail
If you like instead for a $5 pencil drawing, please let me know or I could show you some examples
DM me here or maybe Discord message me.
When you commission me, please tell me the size you want the drawing as (if digital), what you want (which Vocaloid and if you want them happy or sad, etc. background color and simple design (I have been doing starry background lately and won't do complex background). For Utauloids I only know a few of them (mainly the popular ones), but show me some pictures of them and I can try my best on it. Make sure if you want the characters with their original clothes or if you have one in mind (or if you want instead for example Requiem Kaito instead of original V3 Kaito)
As long as you put me as credit you can use the drawing that you paid for in your music videos of covers or originals, fanfiction cover, etc.
Reminder: Will not do Gore and other R18+ (and drawings to be use for hate messages as I will not draw anything that sends or has a powerful hate message in it), and if failure to accept my wishes on that, further business will be cancel. Do not forget to credit me or at least link to my profile here in VVN. Do not sell my drawings anywhere else (I didn't sell my drawings to you for $10-20 just for you to make so much money off of them!)
I am not a perfect artist, so please don't expect my drawings to be so masterpiece! I do make mistakes. some that happen out of my control
This for example
so if something does happen I'll be sure to message you to turn that mistake into part of the drawing.
Check out this video and my Copics playlist to see my past self on Copic Drawings!
Check out my Art Station Thread
for more of my digital work done.
I might also do OCs if you provide art reference of them.
If you don't want a Vocaloid, I can try to work with you.
As of now I have done 2 arts used to original songs (one isn't released in public yet) for someone. I even have 2 of my Collab songs that uses my art.

Money will be through PayPal.
Half of the money will be sent to me at the beginning and the rest when I am finished with the drawing and you are satisfied. (For digital it would be before I combine all the layers) (For Traditional it would be before I apply the white pens or before I scan it). Rest of the payment will be sent to me before I give you the full drawing (.png for digital, traditional when I scanned it and edited it unlike the Arsloid drawing that I posted above)
*This post could be edited down the line to express some changes or to add in some more information
Will let everyone know in this post if I am full of commissions to do or not
Hope to do some drawings tonight and tomorrow to be able to get Dex.
Last edited: