I was wondering if the mods would consider adding a Japanese-language category to Discord?
In the category could be 2+ channels related to learning Japanese.
REASONS TO ADD:
Many vocal synth fans are interested in learning Japanese. A lot of their favorite voice banks only sing in Japanese.
Having a section for Japanese would add more fun things to do in the server.
It would create a special spot to talk about Japanese instead of clogging up general chat.

SUGGESTIONS FOR WHAT TO IMPLEMENT:
CHANNEL FOR THE KOTOBA BOT (LEARN/PLAY WITH KOTOBA):
I strongly recommend adding the bot called Kotoba. (I use her in my private server and she's really fun! Makes it feel like you have a study buddy to compete with.)
You can use her to search for things like example sentences and stroke order for kanji.
You can play a modified version of shiritori with her and other members can join in as well. (Real shiritori's goal is to pick a word that ends in n/ん, but since she's a bot, she would win every time, so the game only ends when you tell her to stop. You can also only say nouns, which makes it challenging but exciting.)
Maybe make a specific channel for playing shiritori, so it doesn't make the other Japanese channels messy.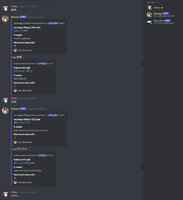 VOICE CHANNEL FOR GROUP STUDY:
In the past, I had done a few voice chats while sharing my screen to VocaVerse members so we could read Japanese manga together. Maybe we could do "watch parties" for translating Vocaloid lyrics/music videos or watch Japanese YouTube videos/Disney+ with Dualsub (shows English and Japanese subs simultaneously) together.
TEXT CHANNEL FOR QUESTIONS/LEARNING:
People could ask about the meaning of Vocaloid lyrics or share their attempts at translations.
Could have weekly challenges (ex: translate a block of text, write a 4 sentence journal).
Could discuss Japanese singing synths or Japanese text-to-speech for projects.
Hopefully these ideas seem tempting enough to consider adding.