Hi, everyone. I have an idea for a VocaVerse Manga Club and would like to share my idea and get feedback from those who are interested in manga and/or learning Japanese so I can plan the first session.
Note:
This idea will be carried out through Discord's voice/screenshare feature. You do not have to participate in narrating, you can observe quietly. If no one wants to speak, I will read/translate everything for the audience, so the show will go on no matter what!
BACKSTORY
A few years ago, I was part of a Google+ manga club where the leader would screenshare a manga and everyone would take turns reading one page. Each lesson was once a week and lasted one hour.
The manga selected were ones written for teenage readers, so all kanji contained furigana (that means all kanji have the pronunciation written in hiragana next to it). We read things like Seven Deadly Sins and Resident Evil, for example.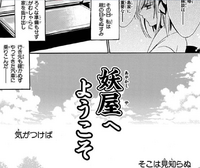 Example of furigana (hiragana pronunciation by each kanji).
In short, if you can read hiragana, you can read the entire page regardless of if you understand the meaning (pronunciation/reading practice is fun/builds confidence!). The person reading the page would try to translate the speech bubbles into English to the best of their ability, and other members would help them out/explain vocab and grammar if they didn't know how to translate parts.
MY IDEA
I want to bring this style of live manga translation to VocaVerse's lovely Discord channel. But I need feedback from people who are interested in participating/observing (will get to that shortly). Here is how I think our club will function:
1) I will be the leader for the most part, I guess, and will be keeping track of whose turn it is to read.
2) I pick out 3 or so manga ahead of time for members to choose from. I think I will have people vote on which they want to read the most and do this to figure out which genre/books you all like.
3) I want to create translation notes on a document ahead of time, but I'm not sure when I would provide these notes (like after the lesson or something so people can study it?).
HOW IT WORKS
1) All manga will be legal, so no sketchy scanlations. They will be free previews from publishers' websites or manga I rent from Amazon Kindle Unlimited. (Feel free to suggest titles you know that contain furigana!)
2) You can enter/leave the session at any time, it isn't required to stay the whole time.
3) You do not have to read if you do not feel comfortable doing so. Anyone can join whether they know Japanese or not. We will read in Japanese and then translate to English, so if you just want to see some cool manga that might not be translated officially yet, watch us budding translators in action. If you have a low level of Japanese or aren't confident in speaking, you can just observe until you feel like jumping in at a later point.
4) The club will meet once a week on the same day/time. But things can change if a lot of people are busy or if we figure out that the time we all decide on ended up needing to be adjusted.
5) The first session will definitely have set up time for people to test out their mics/figure out how to access the Voice channel and make sure everything works properly.
6) We don't have to read the same manga each time we meet up. We can rotate between titles or drop ones we don't like anymore.
7) I'm not sure if, depending on people's time zones/availability, we will end up having it more than once a week but in 2 different time slots (ex: one on Tuesday morning, one on Saturday night), depends on feedback.
MY QUESTIONS FOR YOU
1) What time/day works for you? (Please tell me your timezone.) I go to sleep at 8 PM Central Time, so it can't be really late at night.
2) How long do you want to read for? I think up to one hour maximum is reasonable, but we can start small and try something shorter, like half an hour so people can get used to the club.
3) What manga genres do you like to read? Cute shoujo stories, actioney shounen manga, something serious? Please let me know if there is a subject offensive to you that you want me to avoid (ex: can't handle horror).
4) Do you plan on reading out loud, or do you think you will just watch?
Edit: Would you be okay if I recorded the stream and posted it to YouTube privately or something if it turns out okay/enough people are interested but can't make it?