Welcome to the Mew fanclub, a place to celebrate our amazing monochrome cat lady. As the resident Mew-crazed fan of Vocaverse, I hope I can help some of you guys discover and awesome, underappreciated Vocaloid! If you guys wanna join, reply with your impressions on hearing her the first time, or contribute something Mew-related you like if you already like her.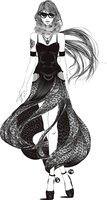 Info:
Engine: Vocaloid 3
Voice Provider: Miu Sakamoto
Language: Japanese
Illustrator: Ryuji Otani
Company: Yamaha
For those of you who are interested in listening to Mew but haven't yet, here's some super amazing songs that use her voice!
"Stella" original by Dixie Flatline
(This is her most famous song, but she's gender-factored a little. Not to say that she sounds bad or the song is bad, but the other songs should show you how she sounds naturally.)
"False Light" original by Apol Music feat. Miku
"Shwarzer Regen" cover by RyukaMoon
Members list:
@VocaMew
@lil_eggo
@ThatGirlMyra
@melodicake
Last edited: