Helloooo! I'm Teru and I draw a lot of Vocaloid. Mainly Kaito and Rin, and mainly my own versions of them, ahaha.
I post this stuff on
my art blog
first usually or sometimes the related ask blogs.
I'll start by posting some older art first~.
First off: A couple designs from last year, January 6th, 2017. My Kaito and Rin, but for a Neopets Paintbrush Color meme that was on Tumblr. Kaito's design is based on the Faerie paint brush, Rin's on the Darigan paint brush!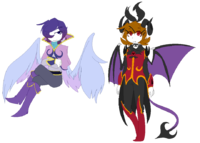 And a couple pics from another Kaito of mine...