We haven't heard any news about unity-chan officially since December 2017. But her website has finally updated and there are some big news and collabs coming up.
Starting December 31st, unity-chan! will be uploading to her new YouTube channel (if my bad math is right, it's 2 PM over there, but it will be Dec 30th at 11:00 PM for us in the US)!
In addition to that, she will be part of a VTuber collab called
Count0
which is being held December 31st 8 PM ~ 15 min after midnight. It's some kind of VR concert type thing.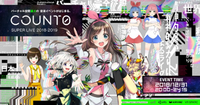 She is also going to be a regular part (along with other big VTubers) of a 12 episode anime airing on TOKYO MX Jan 9th 2019 at midnight called "バーチャルさんはみている (Virtual-san wa Mite-iru) (the
official website
translates it as "Virtual-san Looking", but I would've at least called it "The Virtuals are watching")
Please check out
@Exemplar
's thread about major Japanese companies agreeing to use the same file format for virtual characters which utilizes Unity (unity-chan! is Unity's mascot, so that must explain her comeback):
CFM is going to do stuff with the VRM vtuber format
unity-chan! official YouTube channel
unity-chan! official website
unity-chan! official Twitter
Source: あの「ユニティちゃん」がVTuberとして活動を開始!12月31日に「バーチャル女優宣言」放送 | Mogura VR