@マジカルミライ2023東京
Staff member
Moderator
I've been thinking that there should be a thread for Vocaloid (and other voice synth) merchandise news, such as newly announced figures, preorder news and goods in general.
So, please post news about merch here, discussion is also welcome! Keep it to official licensed merch please.
----‐--------------------‐-----------------‐-
NOTE: When embedding content from Twitter or other sources, please also write down what item is in question (even if it's mentioned on the Tweet/post you embedded). This way users can search a specific item using the search function on this site. You don't have to write it down exactly the way it is officially, but try to have at least the character name and preferably also the version name.
(Added 10.11.2019)
---------------------------------------------
Let me kick things off with Miku; preorders for the Hatsune Miku V4X figma opened today. Info:
figma Hatsune Miku V4X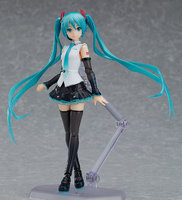 Last edited: