I write mediocre OliLen fanfiction.

Does anyone else play Love Nikki? If so, let's talk about it here! We can swap friend codes, designs, progress, etc.
If not, I'm here to
beg
convince you to play it!
Love Nikki is, as the name implies, a mobile dress up game - think Doll Divine and Rinmaru, but with over 10k individual pieces and a plot. It starts a bit slowly, but once you get into, it's tons of fun! On top of collecting designs and making your own styles, you can participate in semi-weekly competitions, join associations to collect unique suits, share your creations with the rest of the server, and support your friends!
Love Nikki starts out innocently, but it gets subtly darker as its story progresses. It comes to a head in Chapter 15, where a character is fatally stabbed (we see both the action and the aftermath, which, while subdued, is still disturbing). The game is consistently dark from then on, with minor language, violence (usually not shown, but often described in fair detail), assassination, all that fun stuff. That said, the story is only one part of the game; if you're uncomfortable, you can skim through it and just focus on the dress-up aspect.
If you play, share your friend code so we can support each other!
Mine is 100068428.
(As a bonus, have some Vocaloids!)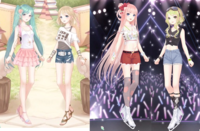 ​