Manager of the Yuzuki Yukari Fanclub
"She unites you all with her voice~"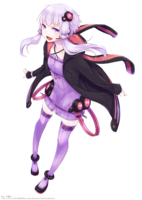 Welcome to the Yuzuki Yukari fanclub, where you can talk about her Jun, Onn, Rin and Voiceroid voicebanks!
Yuzuki Yukari (結月ゆかり) is a Japanese VOCALOID developed by Vocalomakets and distributed by AH-Software Co. Ltd.. She was initially released in December 2011 for the
VOCALOID3
engine. She is also available as a VOICEROID+. In March 2015, she was updated to the
VOCALOID4
engine and was given two additional voicebanks. Her voice is provided by the Japanese voice actress Chihiro Ishiguro (石黒千尋;
Ishiguro Chihiro
).
The concept for Yukari is "People who are related to the VOCALOID connect the sounds/moon to one another," (VOCALOIDに縁のある人達が音(月)を結ぶ). The English title is "She unites you all with her voice". She is loosely inspired by the legend of the moon rabbit.
Each week we will share a new song and fanart featuring Yukari. Please feel free to pm and/or post with your favorite song/art of hers and I will add you to the fanclub! You can also list your favorite producer of hers as well!
Video of the week:
Fanart of the week:
Intro to Yukari (compilation albums):
VOCALOMAKETS 月の詩 - Vocaloid Database
Yuzuki Yukari Merch:
Yuzuki Yukari
My Yukari shrine: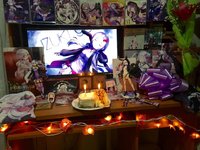 Members:
Violethaze
First Sound Future
Mei-saime
Cluemily
MikuHatsune
Sasatek
Jupiter
Also forgive me but I am looking for a banner maker ><
Last edited: