カイミク || Len English || Arsloid || V5/Piapro
Staff member
Moderator
Decided to finally create my own thread of Vocaloid (and maybe UTAUloids/Synths) fanart.
First one will be of Chika, requested by
@PigeonP
when I asked which Female Vocaloid should I draw. I was trying it out Clip Studio Paint Trial and was drawing a female and couldn't decided between Miku or Rin. Brought Clip Studio Paint when I saw that I only had 4 hours left before sale was over, so....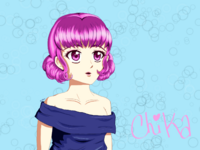 ​