There is a new, kind of mysterious web AI text to speech called CoeFont STUDIO. (It's a weird spelling of koe (voice).)
Website:
クリエイターのための無料で使えるAI音声合成サービス
The homepage lets you try Allial's (ARIARU) voice with a text box, but you can't try out Millial (MIRIARU) without logging in because she's a prototype. You can easily log in with a Google Account.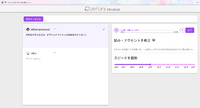 They are made by YELLSTON and were established in November 12th, 2020. CoeFont STUDIO became public today.